(Save-a-Soul Quintet of Biafran school girls from Regina Pacis Secondary School Onicha, southwest Biafra... wins global technovation contest, San Jose, United States, Thursday 9 August 2018)
Herbert Ekwe-Ekwe
ON FRIDAY 10 August 2018, news comes through of the overnight stunning success of the great Save-a-Soul Quintet of Biafran school girls from Regina Pacis Secondary School, Onicha, southwest Biafra, winning the 2018 global technovation contest held in San Jose, United States. Fifty million Biafrans at home and in the diaspora are catapaulted into a weekend of celebration as the Regina Pacis whiz kids Promise Nnalue, Vivian Okoye, Adaeze Onuigbo, Jessica Osita, and Nwabuaku Ossai became latest icons in the 52 years of the Biafra freedom movement.
Across the wall, in genocidist lair Nigeria, the news from San Jose is crushingly depressing … The state, as usual, is thrown into a frenzy as it decides what to do… how to react to yet another uplifting news feature on/about Biafra and Biafrans. As in the past, genocidist planners would come up with a response, usually more savage than before, in a day or two, a few days, but surely within a week…
ON FRIDAY 17 August in Owere, east Biafra, 50 miles away from Onicha, 2000 Igbo women embark on a peaceful freedom march. As the marchers approach the Owere city centre, a genocidist police detachment opens fire on them.
Details of casualties and possible fatalities suffered by the women are still unknown but the
génocidaires
detained scores of survivors of the shooting for four days before they were released due to a follow up unrelenting campaign by the Biafran population.
(Biafran women on freedom march, Owere, east Biafra, Friday 17 August 2018)
(Biafran women freedom marchers, Owere, east Biafra, Friday 17 August 2018)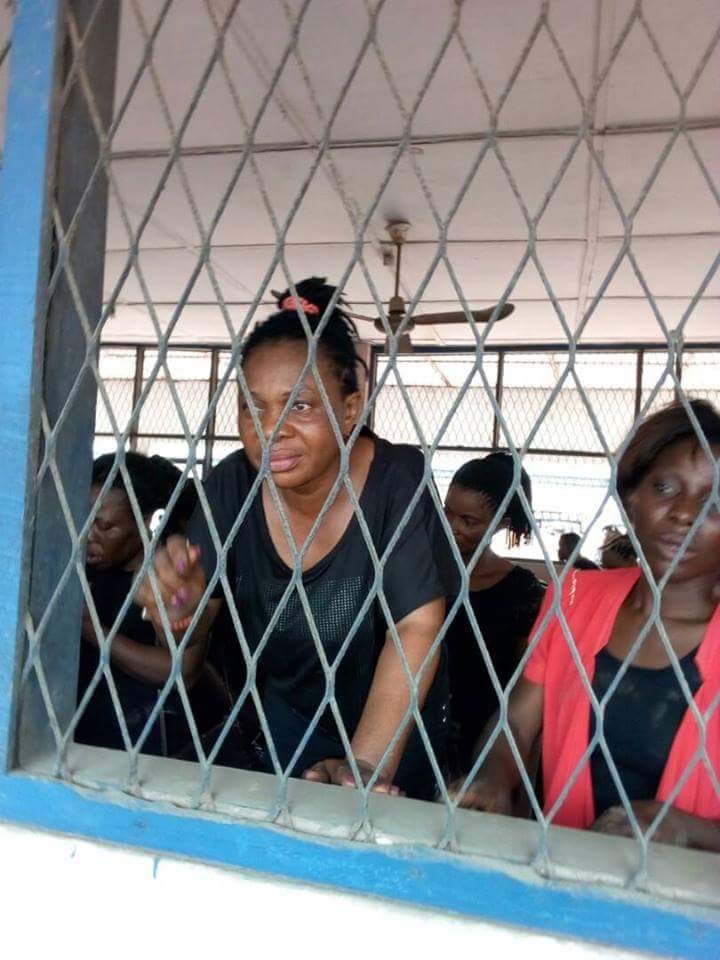 (Scores of Biafran women marchers in Owere, east Biafra: detained by Nigerian génocidaires)
Crux, collapse, legacy
AT the crux of this unparalled savagery by genocidist Nigeria, this malebogle, this poorest country on earth presently (according to the World Bank,
https://twitter.com/spectatorindex/status/1031088319654842369
), is the engaging, crippling consequence of its genocide against Igbo people which has gone on since its launch date on 29 May 1966. Nigeria murdered 3.1 million Igbo during phases I-III of the genocide, 29 May 1966-12 January 1970, and tens of thousands of additional Igbo subsequently, phase-IV, 13 January 1970-present day…
Precisely, Nigeria has indeed collapsed as a state with few prospects for the future. Despite 52 years of genocide it has waged on the Igbo, including its 44 devastating months of comprehensive siege of Biafra by air, land and sea, 29 May 1966-
12 January 197o, Igbo people have demonstrated a greater creative drive towards constructing an advanced civilisation in Biafra than what Nigeria has all but wishes it could achieve in the past five decades.
THIS is the haunting legacy that Nigeria presents to Theresa May, prime minister of its Igbo genocide co-genocidist and suzerain state Britain, who arrives there tomorrow, Wednesday 29 August, for a fleeting visit.
(John Coltrane & Don Cherry, "Focus on sanity" [personnel: Coltrane, tenor saxophone; Cherry, pocket trumpet; Percy Heath, bass; Ed Blackwell, drums; recorded: Atlantic Studios, New York, US, 28 June/8 July 1960])
Twitter@HerbertEkweEkwe