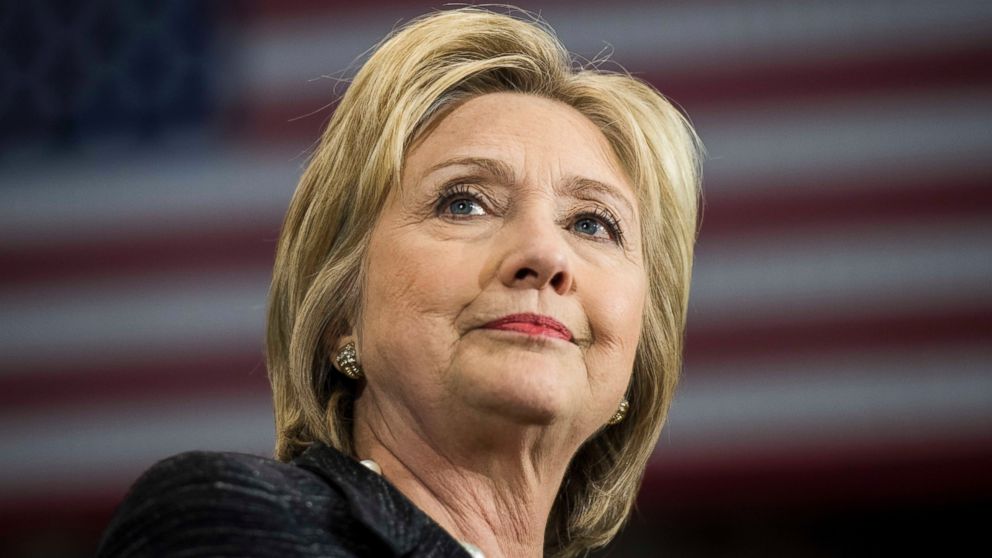 (Hillary Clinton:... unrelentingly tortured tale ... now blames "white men" for loss)
Herbert Ekwe-Ekwe

HILLARY CLINTON has continued her unrelentingly tortured tale of why she lost the November 2016 US presidential election to Donald Trump, her anti-establishment opponent. In the latest episode, narrated to an audience in Mumbai, India, where she was on a visit, Clinton now blames "white men" for her poll defeat: "We [did] not do well with white men and [did] not do well with married, white women. And part of that is … a sort of ongoing pressure [for the latter] to vote the way [their] husband, [their] boss, [their] son, whoever, believes [they] should…" (nationalreview.com, 13 March 2018, accessed 14 March 2018).
The reflections here will not assess the veracity or otherwise of Clinton's claims on the role of "white men" in that election but would focus more pointedly to what impact this demographic constituency, which Clinton undoubtedly feels is crucially important to her political ambitions and destiny, had on her performance and policy outcomes on Africa specifically, whilst she was US secretary of state in January 2009-February 2013.
Contradictory

THE background to Clinton becoming US secretary of state in 2009 would, in the overall, appear to lend some element of credibility to the premise of her presumed problematic relationship with the country's "white men" electorate, albeit contradictorily. In the previous year, 2008, Clinton had had a bitterly fought presidential election contest with Barack Obama, an African American, in which she was beaten. On winning, Obama actively sought Clinton's goodwill by offering her the position of secretary of state in his incoming administration and paying off her huge outstanding campaign debts with surplus funds from the former's campaign organisation. Clinton's acceptance of Obama's cabinet position offer helped in the process of "healing" in the Democratic party after the evidently rancorous poll and her tacit agreement not to challenge the latter in the 2012 election cycle, if he were to seek another term's presidential run, also included an "understanding" that a 2-term President Obama would deploy the incalculable resources of such an incumbency to support his former rival to run again for the presidency in 2016.
So, thanks to Barack Obama, the African American, i.e., "[not] white man", indeed the
first African-descent elected president after 233 years of the founding of the US republic, Hilary Clinton becomes secretary of state in January 2009 and is duly emplaced on the path of contesting for the presidency, yet again, this time with the expected robust backing of her new "ally" and employer.
Imposition and invasion

ON AFRICA, right from the outset, two distinct policy areas defined the Obama administration's focus: imposition and invasion. And both president and secretary of state were in tandem in the formulation and implementation of this mission. A year in office, Obama reinstated the notorious trail of France's invasion history in Africa which his predecessor, George W Bush, had blocked for seven years as "punishment" for the French 2003 refusal to join the US-led coalition invasion of Iraq. Prior to Bush's ban, the French had carried out 48 military invasions of most of the so-called 22 francophonie states in Africa between 1960 and 2003 which every US president of the era each supported.
Elated by the Obama approval, French President Sarkozy at once resumed his country's 50 years of flagrant military campaigns in Africa. Sarkozy ordered his military to invade Côte d'Ivoire (French invasion no. 49 of an African state since 1960!) which overthrew the government of President Laurent Gbagbo in the process and installed a new regime headed by an Ivorian puppet who would oversee the vast French economic and strategic interests in the country and region. During the assault, 2300 Africans were murdered and several business and residential districts of the commercial city of Abidjan, the principal focus of the invasion, were significantly destroyed.
EMBOLDENED by the French "success" in
Côte d'Ivoire
in southwestcentral Africa, Obama mapped out further to the north of the continent, to Libya, a year later, 2011, to implement his next invasion target in Africa which would be executed by the US
and
the French, and Britain, the other lead European conqueror-state of Africa. This time round, the US would be a far more active,
direct participant
in the operation. Indeed, Hillary Clinton took up the composite range of most uncompromising advocacy for the US involvement in the Libya invasion that its politics and aftermath became the central plank of her record as secretary of state.
Just as in Côte d'Ivoire, the invasion of Libya was catastrophic. The West tripartite force overthrew the Muammar Gaddafi regime during the attack, Gaddafi himself was murdered as well as some members of his family in addition to some influential officials of his regime, hundreds of other Libyans were murdered, and most Libyan cities and principal communication network (outstanding achievements of the Gaddafi years in office) were spectacularly smashed up. Obama could not restrain himself in emphasising the crucial role of the US in this operation: "we [the US] had wiped out all [Libyan] air defenses and essentially set up the entire infrastructure [for the invasion]" (see theatlantic.com, April 2016, accessed 11 March 2016).
BESIDES THESE military invasions of stipulated states, the other method that the Obama administration pursued its aggressive policy of "leadership" imposition in Africa was to interfere or meddle in elections/"elections" in countries elsewhere on the continent as shown in Egypt (2012), Kenya (2013) and Nigeria (2015). Both interferences in the polls in Egypt and Kenya failed spectacularly but in Nigeria Obama
"succeeded" in imposing Muhammadu Buhari,
one of the vilest Nigerian genocidist operatives during these 52 years of the Igbo genocide (1966-present day) as head of Nigeria regime. For
Obama, given the historic background noted earlier as the first African-descent president of the US republic in 233 years of existence, his unflinching support for an African-led genocidist regime in Africa waging genocide, a crime against humanity, against an African people is surely an unconscionable tragedy of his presidential legacy. In that last 18 months' duration of the Obama presidency after the Buhari imposition (May 2015-November 2016), the genocidist Buhari military and its Boko Haram and Fulani militia adjunct forces murdered
2000 Igbo across Biafran cities, towns and villages. Neither Obama's White House nor his state department nor his embassy in Nigeria ever condemned any of these stretches of murders.
It should be added that Obama's imposition of Buhari was carried out with David Cameron, then British prime minister, and had been preceded by the Obama-Clinton insistence (whilst Clinton was secretary of state) of not designating Boko Haram, the islamist, north region Nigeria terrorist organisation (one of the four deadliest in the world) and adjunct of genocidist Nigeria military, terrorist despite the latter's murder of thousands of African peoples, overwhelmingly Igbo, during the period. It was therefore not surprising to quite a few observers when a US-based social group claimed in November 2016 that the Buhari regime had donated "[US]$500 million … into the Hillary Clinton electioneering campaign fund" (hopefornigeriaonline.com, 16 November 2016, accessed 16 November 2016). It was open secret that the Buhari regime was confident that Clinton would win the election and continue Obama's support for its genocide against Igbo people.
The score: "white men" vs "[not] white men"
AS FAR AS the Obama presidency (January 2009- January 2017) was concerned, it was in fact business as usual on Africa as its policy programme developed and implemented on the continent explicitly demonstrated. Following Hillary Clinton's choice of that lexical configuration, "white men", other likely expressions in the same semantic field should now be invoked to elaborate on this policy programme in the concluding notes here.
It would undoubtedly be the case that the former secretary of state wouldn't state that she worked for an administration headed by a "white man" but a"[not] white men". During two terms of presidency, this "[not] white man"-headed government deployed a dual track policy on Africa marked by invasions of states and impositions of "leaders" as we have indicated. Prior to 2008, in US administrations since the 1960s,
all headed
by "white men", invasions and impositions of leaders, directly or/and indirectly (especially in approval or in complicity with allies especially France, Britain, France, Portugal, South Africa, Rhodesia), also featured highly as foreign policy goals in Africa. Indeed, given the overriding importance of Libya to Clinton's work in the Obama administration, we should recall that on 14 April 1986 the "white man"-led Ronald Reagan government ordered the US air force to bomb Libya, pointedly for a raid that was over in just an hour; 25 years later, in 2011, another US president, this time a "[not] white man", ordered the same US air force to bomb Libya – but for a much longer duration and the consequences duly recorded... It should now be obvious that:
1. "white man"-president can invade, overthrow, impose; "[not] white man"-president can invade, overthrow, impose
2. "white man"-president/"white man"-king/ "white man"-chancellor/"white man"-prime minister/"white man"-general/"white man"-journalist/"white man"-academic/
"white man"-cleric/
"white man"-farmer…
has planned, executed, supported genocide(s) against a people or peoples over the course of recent history
3. "[not]white man"-president/"[not] white man"-king/"[not]white man" attorney/"[not]white man"-journalist/"[not]white man-academic/
"[not] white man"-cleric/
"[not] white man"-sergeant/"[not]white man"-corporal/"[not]white man"-general… has planned, executed, supported genocide(s) against a people or peoples over the course of recent history
SURELY, a serious, fruitful examination of any feature of human society requires the development, articulation and deployment of tools of analysis to help or enhance interpretation and understanding. As we have shown, Hillary Clinton's "white man" lexicon and its variations are surely no such tools in trying to understand what, in act, presents as the unchanging thrust and tenor in the trajectory of US foreign policy in Africa for the greater part of the past 50 years irrespective of whether or not the president at the time is "white man" or "[not]white man". Just as in Africa, Clinton's "white man" would hardly be fit for purpose as an
explanation
for why she lost the November 2016 presidential poll.
(Sam Rivers Trio, "Afflatus" [personnel: Rivers, tenor saxophone; Cecil McBee, bass; Steve Ellington, drums; recorded: Van Gelder Studio, Englewood, NJ, US, 17 March 1967])
Twitter @HerbertEkweEkwe